Howdy, gang!! How is everyone doing? I've noticed some new faces lately and want to give you a hearty
WELCOME
!! I love seeing all your fabulous recipes and dropping by to visit you all (I know I need to get better about visiting everyone. It's a work in progress...).
Please keep sharing and visiting each other. You all have been so supportive of each other. It makes me so happy!!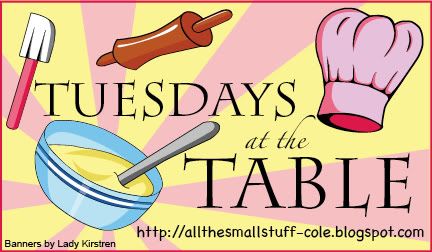 This week I'm sharing some easy ice cream sandwiches (courtesy of
Taste of Home
). Right up my alley for a hot summer day. :-)
Ice Cream Sandwiches
1 package (18-1/4 ounces) chocolate cake mix
1/4 cup shortening
1/4 cup butter, softened
1 egg
1 tablespoon water
1 teaspoon vanilla extract
1/2 gallon ice cream
In a large bowl, combine the cake mix, shortening, butter, egg, water and vanilla until well blended. Divide into four equal parts.
Between waxed paper, roll one part into a 10-in. x 6-in. x rectangle. Remove one piece of waxed paper and invert dough onto a ungreased baking sheet. Score the dough into eight pieces, each 3-in. x 2-1/2-in. Repeat with remaining dough.
Bake at 350° for 8-10 minutes or until puffed. Immediately cut along the scored lines and prick holes in each piece with a fork. Cool on wire racks.
Cut ice cream into 16 slices, each 3-in. x 2-1/2-in. x 1-in (the diameter of a square half gallon of ice cream). Place ice cream slice between two chocolate cookies; wrap in plastic wrap and freeze for up to 2 months.
What's cooking in your kitchen?