If you haven't noticed, I try to do two posts on Tuesdays - our usual recipe link up, and Andrea's 2 on Tuesday (the topic for that changes every week). As it would happen, this week's topic is
food
!! We're being asked what our two "go-to" recipes are.
I am a sucker for orange chicken, and the crock-pot version is so easy and absolutely delicious! I posted the recipe almost a year ago, and you can find it
here
.
Another recent favorite is Mexican egg rolls. It's a yummy meal that can be altered to accommodate even the pickiest of kids, and it's fun for them to help assemble too! The recipe from a few months ago is
here
.
Because I can't follow rules - I'm going to share my favorite dessert too. If I get invited to a cook-out and don't have much time to prepare, these suckers are going with me. (Fine. I bring them even if I have tons of time to prepare. But people love them, I swear!) Recipe
here
!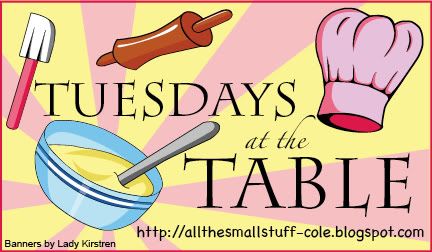 This week's recipe is a soup that a small group of my friends ask for every time I see them.
Broccoli Cheddar Soup
6 tablespoons butter
1 small onion, chopped
1/4 cup flour
2 cups half & half
3 cups chicken broth
2 bay leaves
1/4 teaspoon nutmeg
4 cups broccoli florets
1 large carrot, diced
2 1/2 cups cheddar cheese, shredded
Salt and pepper to taste
Melt the butter in a large pot over medium heat. Add the onion and cook until tender, about 5 minutes. Whisk in the flour and cook until golden, 3 to 4 minutes, then gradually whisk in the half and half until smooth. Add the chicken broth, bay leaves, nutmeg, salt and pepper and bring to a simmer. Reduce the heat to medium low and cook, uncovered, until thickened, about 30 minutes.
Add the broccoli and carrot to the brother mixture and simmer until tender, about 20 minutes. Discard the bay leaves. Puree the soup with an immersion blender. Add the cheese and whisk over medium heat until melted.
What's cooking in your kitchen?