Happy Tuesday, ladies!! Did everyone have a wonderful weekend? I haven't left the house since Friday...so I'm feeling a little stir-crazy. On the bright side, mom is home and resting comfortable...
considering
. The first time she's allowed to leave her house is next Tuesday. Hopefully, my brother & dad will step in and start helping me any. second . now. or I am going to go absolutely nuts being stuck in the house for the next week too.
Anyway... I made my parents portobello mushroom pasta for dinner. Unfortunately, I don't like mushrooms - but it doesn't stop me for making fungus based foods for others. :-)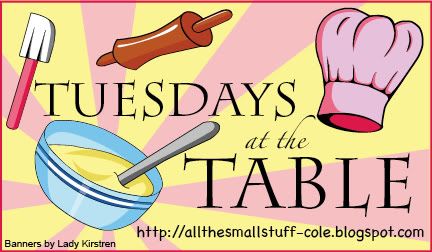 Portobello Mushroom Pasta
6-8 oz. portobello mushrooms (rough dice)
1/2 onion (fine dice)
1/2 pint cherry or grape tomatoes
1/2 cup white wine
6 tbsp butter/margarine
4 cloves garlic (fine dice)
1 cup chicken stock (or vegetable)
1 tsp rosemary
1/2 tsp crushed red pepper
1/4 cup grated Parmesan cheese
salt
pepper
pasta (cook per box instructions)
In a large saute pan, melt half the butter. When melted, add the mushrooms, onions and tomatoes. Cook on medium for 8-10 minutes until the onions are translucent and the mushrooms get tender. Add the garlic, stir and cook for a minute or so. Bring the heat up to medium-high. Add the wine and let reduce by half. Then add the chicken stock, rosemary, crushed red pepper, salt, pepper and remaining butter & let reduce until you have about 1/2 to 3/4 cup fluid surrounding your vegetables. Combine your cooked pasta and vegetables together. Add the cheese, give a quick stir and serve.
What's cooking in your kitchen?