Happy Tuesday! Here's a little secret for you... because of all the family in town, need to be away from my house and grandma-centric birthday festivities...I haven't cooked since Thursday. I kind of miss my kitchen!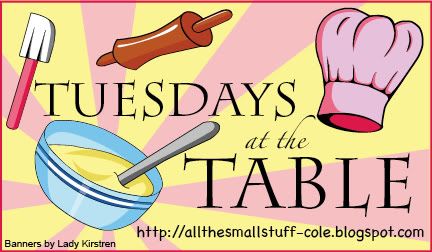 It's supposed to rain later this week, and I think I just might be making this coffee cake. YUM!
Coffee Cake
Topping:
3/4 cup brown sugar
1/4 cup sifted all-purpose flour
1/4 cup butter, room temperature
1 teaspoon cinnamon
Cake:
1 1/2 cups sifted all-purpose flour (sift before measuring)
2 1/2 teaspoons baking powder
1/2 teaspoon salt
1 egg, beaten
3/4 cup sugar
1/2 cup melted butter
1/3 cup milk
2 teaspoon vanilla extract
In small mixing bowl, combine topping ingredients. Blend with fork until crumbly. Set aside.
In a medium bowl, combine together beaten egg, sugar and melted butter. Add milk and vanilla. Stir in flour, baking powder and salt, mixing well.
Pour batter into a greased and floured 9-inch layer-cake pan. Sprinkle topping crumb mixture evenly over batter. Bake at 375° for 25 to 30 minutes, when a toothpick will come out clean. Partially cool in pan on wire rack. Cut coffee cake into squares while still warm.
What's cooking in your kitchen?