Happy Tuesday! If you follow me on Twitter, you've already seen me ask this...but can we skip to the weekend? It's been a long week already!
Before I talk about my recipe for the day - I have a little "housekeeping". Stick with me!!
A
HUGE
welcome to all the new faces that have been contributing recipes lately! I love seeing new people join in on the fun. :-) Everyone is dropping by to encourage each other and thank each other for sharing, right?!?!
And while we're loosely on the subject of new people.... I'm one follower away from kicking off my
"Oops, I forgot my blogoversary, but I want to have a giveaway"
giveaway. I'll also be kicking off my flip flop swap later this week!!
And lastly - here is my new Tuesdays At The Table button! It was time for the button to get a face lift and
Kirstren
was fabulous enough to read my mind and create this for me. Drop by and see her! (Sidenote: The box displaying the html code for the button keeps disappearing. If you want the code for your blog -
email
me!)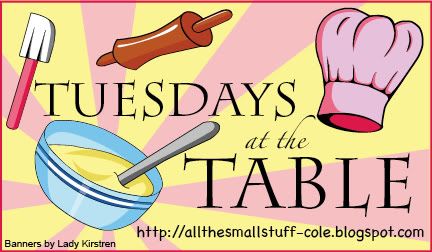 I love, love, love crab rangoon!! Sure, I could go to one of the local restaurants when the craving hits...but sometimes, it's more fun to make them at home.
Crab Rangoon
1 tub (8 oz.) PHILADELPHIA Chive & Onion Cream Cheese Spread
1 can (6 oz.) crabmeat, drained, flaked
30 wonton wrappers
1 1/2 cups oil
Mix cream cheese spread and crabmeat; spoon onto won ton wrappers, adding about 1 tsp. crabmeat mixture to each.
Moisten the edges of wrappers with water; fold diagonally in half. Press edges together to seal.
Heat oil in medium skillet or wok. Add won tons, in batches; cook 1 to 2 min. or until golden brown on both sides, turning once. Remove from skillet with slotted spoon; drain on paper towels.
What's cooking in your kitchen?
Want to be in business for yourself, but not by yourself? It is still FREE to sign up with Bamboopink and have your own personalized website to sell Bamboopink jewelry by JudeFrances. Over 25,000 people nationwide signed up in just over a month...and you can too! Click
HERE
. Don't want to sell, but want the inside track on discounts? Sign up!!