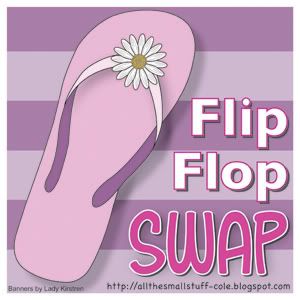 Time to announce swap partners, ladies! I used the uber-scientific method of putting everyone's names in a hat and picking two at a time. :-) I think we should do a linky party to unveil our packages. I really want to see what you get! Maybe on Wednesday, April 27th? Thoughts?
Quick reminder of the rules - budget is $10- $20 (not including shipping) & I ask that you please ship to your partner by April 20th.
Pair A: Mrs. Jones @
Keeping Up With The Joneses
Cajun Cowgirl @
When In Doubt, Add More Salt
Pair B: Jennifer @
For Such a Time as This
Debbie @
Love The Decor
Pair C: Kristin @
Lady Kirstren
Jane @
Dissecting Jane
Pair D: Kathie @
Like A Box of Chocolates
Heather @
Life, Love, Laughter
Pair E: Faith @
In The Kitchen With Butters
Me
:-)
Please reach out to your partner soon to learn a little about them and -
most importantly
- their shoe size! Have fun!!!!