Christmas Day is in a week! YIKES! Can I tell you that I'm just not ready this year?! Please tell me I'm not alone...
Given that Christmas falls on a Tuesday - should I host TATT next week? Or should I take a week off for the first time since I started?
This week I'm sharing a holiday punch. I look at it like a winter version of sangria...that can be served hot or cold.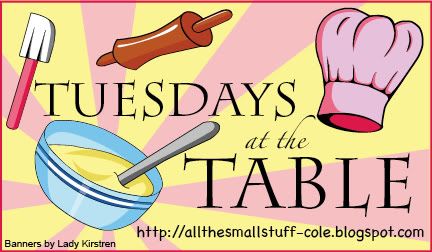 Very Merry Punch
1 1/2
cups
water
1
cup
packed light brown sugar
2
bottles
(750-ml)
hearty red wine
1
orange
, halved and sliced
1
cup
pineapple chunks
, fresh or canned

Place water and brown sugar in a medium pot. Cook over medium-high heat, stirring often, until the sugar has dissolved, about 2 minutes.

Add wine, apple, orange, pineapple, and star anise. Reduce the heat to medium and cook for 10 minutes.

Stir in orange curaçao and cook for 5 minutes more. Discard star anise. Serve the punch in heat-safe wineglasses or coffee cups, spooning a little fruit into each glass OR chill and serve over ice.

What's cooking in your kitchen?