Happy Tuesday! Was the Easter Bunny nice to everyone? I hope so!! I had the most boring Easter that I've had in years.... Brunch with mom, JC and his new girlfriend (dear old dad is in Myrtle Beach visiting friends), movies with mom, a trip to the garden department of Home Depot and then home to veg out with the pups.
How did you spend your Easter?
Oh...guess what?! I'm having another giveaway!! Enter
HERE
!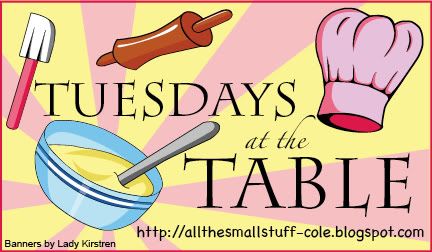 This week I'm sharing a Betty Crocker casserole. It's yummy. :-)
Loaded Baked Potato Casserole
1 package (30 oz.) frozen potato wedges
2 cups (about 12 oz.) cooked ham (chopped)
8 slices of bacon (cooked crispy and crumbled)
1 medium bell pepper (chopped)
1 cup (about a dozen, chopped) green onions
1 jar (15 oz.) nacho cheese dip
1/2 cup sour cream
Spray a 13x9 baking dish with cooking spray. Arrange potato wedges and cook at 375 degrees for 10-15 minutes (until thawed and beginning to brown). Top with half of the ham, bacon, bell pepper and onions. Spread cheese dip over the top and sprinkle the other half of the ingredients.
Bake for 20-30 minutes, uncovered. Top with dollops of sour cream.
What's cooking in your kitchen?