Happy Tuesday! All you moms - did you get some pampering/good gifts from the kids and significant others? I hope so!! Feel free to brag and tell me what kind of loot you got. :-)
More and more people are joining in to our fun little recipe meme these days!
WELCOME!!
I hope everyone sees something they like from another contributor. I have to say that I've gotten some absolutely amazing recipes from you ladies.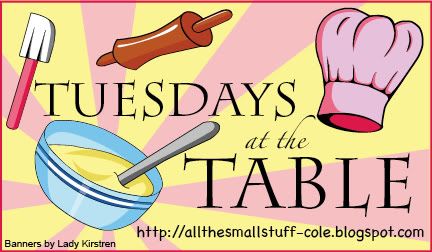 BLT Dip
1 cup (8 oz) sour cream
1 cup mayonnaise
1 cup shredded cheddar cheese
1 cup tomatoes, seeded and chopped
6 bacon strips, cooked and crumbled
1 tablespoon green onion, chopped
In a large bowl, combine all ingredients except the green onion. Stir well and refrigerate until ready to serve. Garnish with green onion.
What's cooking in your kitchen?