Happy Tuesday, ladies!! Did everyone have a good weekend? More importantly - are all my girls in the South OK?!?! Every time I hear about flood warning and tornadoes hitting - I just want to take attendance and make sure all the proverbial fingers and toes have been counted.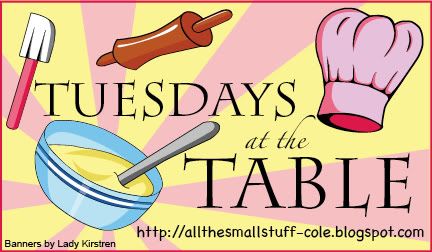 Next weekend, my cousin
Kristin's
little boy will be having his first communion. I'm not Catholic...but I hear it's a
big
deal. (Kidding, kidding!!! I mean, truthfully - I'm not Catholic. But I know that it's a
HUGE
deal.) I think I might be making this punch, along with a plethora of baked goods.
Or maybe I'll stick to my super yummy white sangria. The jury is still out. :-)
Strawberry Citrus Punch
1 can (12 ounces) frozen pink lemonade concentrate
1 small can (6 ounces) frozen orange juice concentrate
1 package (10 ounces) frozen strawberries in syrup
3 cups water
1 bottle (liter size) cold ginger ale
Ice
In punch bowl, combine lemonade and orange juice concentrates, strawberries, and water. Refrigerate. At serving time, pour ginger ale into juice mixture in bowl. Add ice ring or cubes and serve.
What's cooking in your kitchen?