HAPPY TUESDAY!! I hope that you all had a fabulous weekend!
A big welcome to everyone joining in for the first time. Please drop by and visit the lovely ladies who contribute their yummy recipes each week...and share a favorite recipe (or something new we should try!) too. :-)
This week I'm sharing cheese poke muffins from
Taste of Home
. I made chili for dinner tonight and these are a perfect compliment.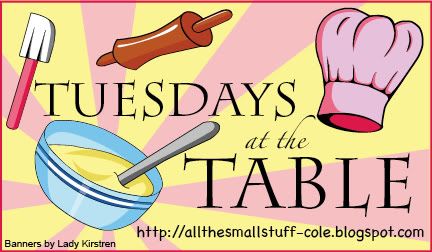 Cheese Poke Muffins
3/4 cup all-purpose flour
3/4 cup yellow cornmeal
2 teaspoons sugar
1 teaspoon baking powder
1 teaspoon salt
1 egg
1/2 cup plus 2 tablespoons milk
1/3 cup canola oil
1/2 cup finely chopped process cheese (Velveeta)
2 tablespoons butter, softened
In a large bowl, combine the flour, cornmeal, sugar, baking powder and salt. In a small bowl, whisk the egg, milk and oil. Stir into dry ingredients just until moistened.
Fill eight greased muffin cups one-fourth full. Combine cheese and butter; spoon over batter. Top with remaining batter.
Bake at 400° for 15-18 minutes or until a toothpick inserted near the center comes out clean. Cool for 5 minutes before removing from pan to a wire rack. Serve warm.
What's cooking in your kitchen?