Happy Tuesday, ladies!! I haven't been this relaxed in...well...almost eight years. I know it won't last long, but I'm enjoying these days of much needed freedom and relaxation. I'm hanging with my mom, cuddling with the pups, crafting up a storm, monitoring my container garden & miniature fruit trees and have my DVR cleaned out for the first time since I moved. Fun things are coming on ye olde blog. Stay tuned. :-)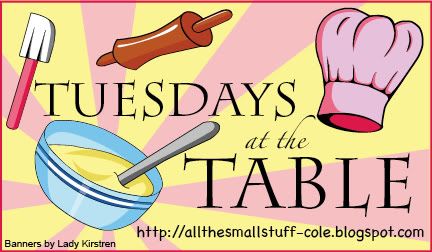 This week I'm sharing a fun, easy,
no bake
dessert. After all, it is summer. Why make the house hotter than it needs to be?!
1-2-3 Blackberry Sherbet
4 cups fresh or frozen blackberries, thawed (feel free to substitute for any other berry)
2 cups sugar
2 cups buttermilk
In a food processor, combine berries and sugar. Cover and process until the mixture is smooth. Strain and discard seeds and pulp. Stir in buttermilk.
Transfer puree to a 13x9 dish. Freeze for an hour (until edges begin to firm). Stir and return to freezer. Freeze until firm (about 2 more hours).
Just before serving, puree the mixture for a moment to create a smooth consistency.
What's cooking in your kitchen?