Happy Tuesday!! Every week, I'm amazed by how many of you lovely ladies join in and share your recipes. All I can say is "thank you". Thank you for visiting; thank you for sharing; thank you for participating in one of my favorite parts of the week. :-)
Memorial Day has passed. The summer is upon us and BBQ season is in full swing. This week I'm sharing a healthy (mostly) primavera salad.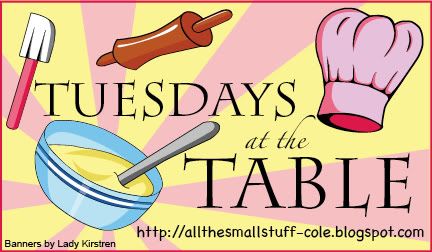 Primavera Salad
1 lb. pasta (I like the whole wheat kind)
1 tsp. salt
2 tbsp. unsalted butter
2 tbsp. olive oil
1/2 cup onion, chopped
1 tbsp. minced garlic
1 cup zucchini (cubed or juilienne)
1 cup yellow squash (cubed or julienne)
1/2 cup tomato (chopped)
1/2 tsp. black pepper
1/4 cup extra virgin olive oil
1/2 cup parmesan cheese.
Cook pasta until al dente. Rinse with cool water to stop cooking and drain well. In a large skillet, melt butter and when hot add olive oil. Cook the onion over medium heat for about 2 minutes, stirring occassionally. Add minced garlic, stir well and let cook for about 30 seconds. Add zucchini and squash - cooking for about 2 minutes. Add tomato, salt and pepper and stir well. Remove from heat.
Pour vegetables over the pasta. Drizzle with extra virgin olive oil adn toss to coat. Sprinkle parmesan cheese and allow to cool.
What's cooking in your kitchen?