I
lurve
playing this game with
Blonde Undercover Blonde
and
The Vintage Apple
. It's so much fun to theoretically pick celebrities that we'd marry (amongst other things), and every that links up has such great trios of men too!
If you want to see who I've chosen in past editions:
Hawaii Five- O
,
Covert Affairs
, and
NCIS: LA
.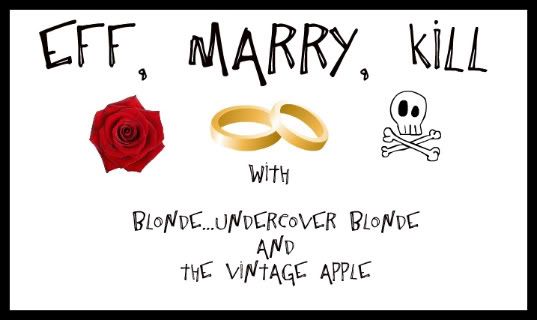 This time around, I chose a new obsession -
The Voice
!
Eff.... Blake Shelton. He seems like a really sweet guy, and really nice to all the singers he critiques on the show. You don't mess with his wife Miranda Lambert though. That country girl is FIERCE!
Marry... Adam Levine. Um, hello! He's hot. He's so nice. He's got an amazing voice. And his game of Guesstures on The Ellen Show was hysterical! (Watch it
here
.)
Kill...Cee-lo Green. He's a good singer/performer; I'll say that. But if you pay attention - he says some things to the female contestants that vary from vaguely suggestive all the way up to pervy.
Do you agree? Or do I have it all wrong?! :-)