Happy Tuesday! If you haven't dropped by in a few days - I hope you're enjoying the new blog look. :-) It's still under construction, but will be finished up soon. Stay tuned!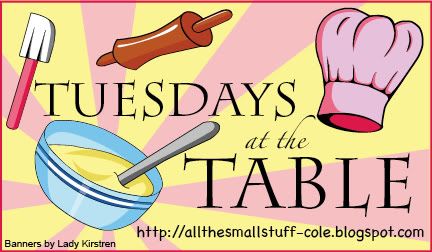 Cool weather is finally arriving and I'm craving meatloaf! I make a few versions, but BBQ meatloaf gives a good "bang for the buck" presentation if you have company. :-)
BBQ Meatloaf
1 1/2 pounds ground beef
1/2 cup French's fried onions
1 cup (or so) BBQ sauce of your choice
5-6 slices of bacon, uncooked
2 eggs
1/2 cup breadcrumbs
6 slices provolone cheese
1/4 cup grated Parmesan/Romano
Salt & pepper, to taste
Make meatloaf as normal - combining the ground beef, eggs, breadcrumbs, grated cheese, salt and pepper. Place half your meatloaf in a loaf pan or baking dish, spreading evenly. Pour a thin layer of BBQ sauce, then 1/4 cup of fried onions and the sliced cheese. Spread the remaining meatloaf over the top. Interlace the slices of bacon, covering the top of the meatloaf and pour remaining BBQ sauce over the top. Bake at 350 for approximately one hour. Sprinkle the top with the remaining fried onions over the top and let crisp for 5 minutes at 375.
What's cooking in your kitchen?