Thanks for joining
Mrs. Jones
and I for our monthly book club! We are both so happy when we see that you read along and linked up with us. :-) Remember to vote for our September book in the upper left corner! We'll be making the announcement on Monday.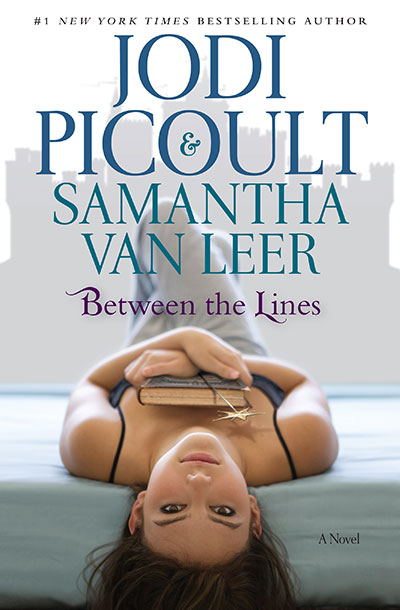 Delilah is a bit of a loner who prefers spending her time in the school library with her head in a book—one book in particular. Between the Lines may be a fairy tale, but it feels real. Prince Oliver is brave, adventurous, and loving. He really speaks to Delilah.

And then one day Oliver actually speaks to her. Turns out, Oliver is more than a one-dimensional storybook prince. He's a restless teen who feels trapped by his literary existence and hates that his entire life is predetermined. He's sure there's more for him out there in the real world, and Delilah might just be his key to freedom.

Delilah and Oliver work together to attempt to get Oliver out of his book, a challenging task that forces them to examine their perceptions of fate, the world, and their places in it. And as their attraction to each other grows along the way, a romance blossoms that is anything but a fairy tale.
1. Did you like the book? Why/why not?
I love Jodi Picoult! She has written some truly heart wrenching books. This...was not one of them. It was a great freshman effort by her daughter, with the backing of Jodi.
I like the book. It was an entertaining and quick read! It's interesting to think of the characters in a book as actors playing a role over and over again as each person reads a book. But it wasn't what I had expected. I knew going into this that Between the Lines was a YA book. However, I didn't expect that it would feel so targeted to a pre-teen audience.
2. Do the characters seem real and believable? Can you relate to them/ do they remind you of people you know?
This book is set going back and forth between a fairytale, so there's an a lot that you really shouldn't believe is "real". I think that all girls feel the teen angst that Delilah does - it's just part of growing up. It's easy to identify with feeling like an outsider or "uncool".
3. Is the ending satisfying? If so, why? If not, why not...and how would you change it?
I hate to say this...but I really didn't like the end. I won't spoil it for you, but the prospect of releasing Oliver from the book should not happen like that. Even though they don't spell it out - I think the ending would have been heartbreaking and unfair to another character.
4. If you could ask the author a question, what would you ask?
I just want to know what else she's working on. I can't wait to read her next book, and I'd probably read her daughter's next book too...just to see if she's as talented as her mom.
5. How do characters change or evolve throughout the course of the story? If so, how/why?
There really isn't much character evolution through the book. The characters stay true to themselves from start to finish. I wish that there had been some character growth, it might have made certain parts more engaging.