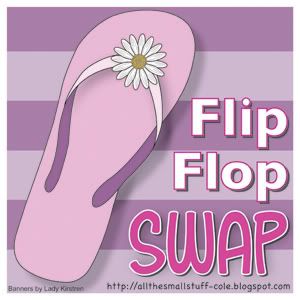 It's swap partner day!
Kim (email: kissess4u7ataoldotcom) & Kristin @
And I Said Yes
Michelle @
Stuttering Shell
& Jess @
Pretty Physicist
Janna @
Happiness Is A Journey
& Mrs.Jones @
Keeping Up With the Joneses
Nichole @
Yeung Mother Hubbard
& Holly @
Wicked Chaos
Colletta @
Colletta's Kitchen Sink
& Me
A quick reminder of the rules:
The flip-flops should be in the $10-$20 range (excluding shipping)

Everyone should ship their swap buddy a package by Monday, April 16th

I'm asking everyone to link up their swap reveal on Monday, April 23th.
If for ANY reason you can't get your package out on time - please let both me and your swap partner know!
Please reach out to your swap partner/drop by their blog(s) to get to know them, as well as determine their shoe size and shipping address. :-)
Happy Swapping! I can't wait to see what you all got!