You all know how much I adore my pups. I'm kinda obsessed...and I'm not about to apologize. Life has been even more dog-centric than usual. Both my parents and I have applications in with a rescue group to adopt new dogs. Please keep your fingers (or paws for my awesome dog blog folks) crossed for us!
Anyway, the prospect of adding to the herd has prompted me to sort through some of their treat recipes - so this week, TATT is going to the dogs. :-)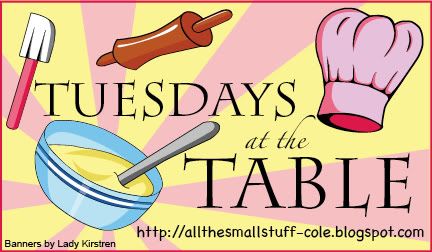 Carrot Cake Dog Muffins
2 large eggs
1 cup milk
1/4 cup vegetable oil
1 cup all purpose flour
1 cup whole wheat flour
1 tsp. baking powder
1/2 cup grated chopped parsley
1/2 cup smooth peanut butter
1 cup grated carrot
In a large bowl, mix your eggs, milk, oil and peanut butter. Add the remaining ingredients slowly - leaving the carrot and parsley for last.
In a 350 degree oven, bake your muffins for 20-25 minutes (or 12-15 minutes for mini-muffins). Once cooled, keep in an air tight container and freeze any portions you won't use in 5-7 days.
What's cooking in your kitchen?