Ah, Tuesday. The yummiest day of the week...at least, that's what I think. I'd like to thank you all again for continuing to share your delicious recipes and for supporting each other by dropping by your fellow participant's blogs to share the comment love. :-)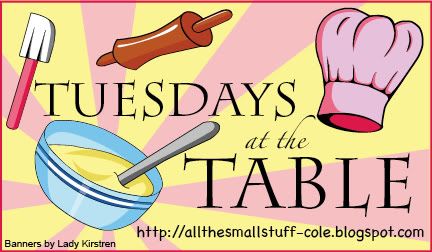 Strawberry & Moscato
Granita
2 1/2 pints strawberries (hulled)
1 1/4 cups sugar
1/4 cup water
1 (750 ml) bottle Moscato (or your favorite wine)
In a medium sauce pan, combine the strawberries, sugar and water. Bring to a boil, allowing sugar to
dissolve
. Take off heat and allow to cool to room temperature then transfer to a food processor and process until smooth. Stir in wine.
Pour out into shallow pan (I find that a 1 quart or larger
Tupper
Ware/GladWare container works well) and pop it into the freezer. Pull the container out every half hour and stir with a fork. Make sure the scrape the sides and bottom so everything freezes evenly.
Such an easy, yummy treat as summer approaches! *Remember, this is supposed to be grainy/full of ice crystals; like adult version of a stick-less
Popsicle
!*
What's cooking in your kitchen?