The combo of Marathon Monday (a state holiday) and icky heat (really...90 degrees in Boston in April is
NOT
nice!) meant that I got to pull out one of my favorite summer pasta salads. I have no clue where I found this...or really, where my mom found this recipe, but I absolutely love it.I haven't said this in a while - and it always bears repeating.
THANK YOU
for continuing to link up your fabulous recipes each week. I love poking through, finding new, delicious recipes and leaving you some comment love. I really hope that you're each showing each other the food love too.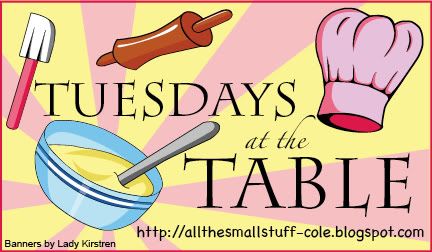 Mexican Pasta Salad

1 box
bowtie
pasta
1 pint container of cherry tomatoes
1/2 block (approx 4 oz.) of Pepper Jack or Cheddar cheese
3-4 stalks of scallions
Prepare
bowtie
pasta using box instructions. Strain, rinse to cool and strain pasta again. Chop scallions fine; cut cherry tomatoes into
halves
(or quarters if they are large) and cut cheese into little 1/4 inch squares.
In a smaller bowl, mix 1/2 cup mayo and 1/3 cup salsa. (If you use a chunky salsa, you may need more). Combine above dressing with all other ingredients, mixing well.
Chill for a few hours and serve.
What's cooking in your kitchen?