Thank you to you lovely ladies who participated in this years flip flop swap! I didn't hear anyone screaming or telling me that they're missing flip flops...so we're going to say that is was more successful than last year!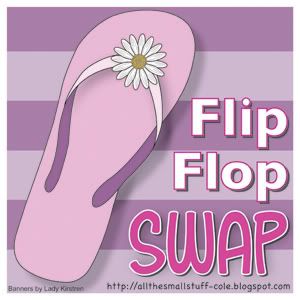 I was paired with Colletta of
Colletta's Kitchen Sink
. She has two adorable daughters, a great sense of humor and participates in some really fun link-ups!
Colletta was a VERY generous swap partner!
I got these really cute flip flops! I can't wait to show these off!
Flip flop oven mitts! Sooo cute! And how did she know I needed a new pair?! :-)
And a new book! I'll be reading this ASAP!
My fellow swappers, please link up and show us what you got from your partner!