Howdy! It's Tuesday again. I have no idea where the weekend went... It's been so hot that it probably went up in steam. Heeheehee! :-) OK, I'll stop. I know I'm not funny.
Anyway, I'm sharing my love of granola this week. It seems to be costly in the store, but it's really economical to make yourself.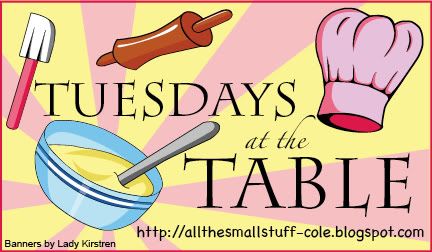 Vanilla Granola
6 cups quick cooking oats
1 cup chopped walnuts
1/2 cup flaked coconut
1/2 cup sesame seeds
2/3 cup vegetable oil
1/2 cup honey
1/2 cup packed brown sugar
2 tablespoons water
1 1/2 teaspoons vanilla extract
In a large bowl, toss oats, walnuts, coconut and sesame seeds. In a saucepan over medium heat, cook oil, honey, brown sugar, water and vanilla until well mixed. Pour over oat mixture and stir to coat evenly. Pour into two greased 13-in. x 9-in. x 2-in. baking pans. Bake at 275 degrees F for 50-60 minutes or until golden brown, stirring every 15 minutes. Cool, stirring occasionally. Store in an airtight container.
Even though the recipe calls for coconut, I didn't use it (I'm allergic to coconut) and it still came out really well.
What's cooking in your kitchen?