Tuesday - the yummiest day of the week! Thanks you all you lovelies that share your recipes each week! :-) Keep them coming.
Have you ever watched an episode of
The Chew
? I just love the way that all the hosts interact with each other. You can really tell that they're having fun! Add some yummy recipes (and Clinton's Craft Corner) and it's not an hour of wasted time. I saw this recipe almost a month ago and, while I wanted to make it, didn't think about it again until I walked by a watermelon display in the grocery store today. I just *had* to give in and make it!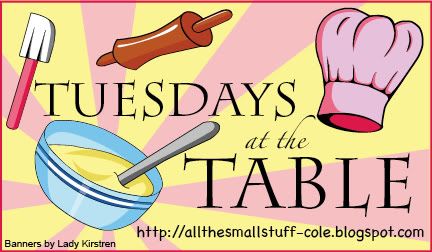 Watermelon Margaritas
3 Cups cubed watermelon
1/4 Cup lime simple syrup
1 1/2 Cups tequila
1/4 Cup orange liqueur
Add the watermelon, lime simple syrup, tequila and orange liqueur to a blender and whirl until smooth. Pour margarita into salt rimmed rocks glasses filled with ice. Garnish with lime and watermelon wedge. (If you prefer a frozen margarita, I'd suggest freezing the watermelon before blending and add in about another cup of ice before blending.)
What's cooking in your kitchen?