Happy Tuesday!! Before I move along and share this week's recipe, I want to mention that the lovely
Andrea
will be hosting a giveaway. And not just any giveaway...one of the hats from my
Etsy store
. Go on, get your cute little self over there to enter! *NOTE: The giveaway isn't posted yet, so I've given you a link to Andrea's main site instead of a specific post.*
It's apple season folks! I haven't gone apple picking yet...but I have some of my favorite recipes ready and waiting for when I do go. :-)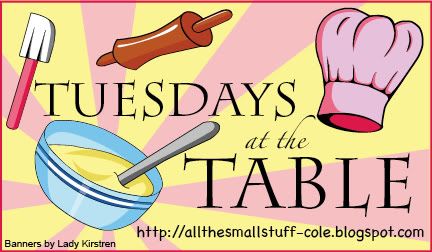 Apple Blueberry Crisp
4 cups
sliced peeled tart apples
2 cups fresh or frozen blueberries
1/4 cup
packed brown sugar
1/4 cup
thawed orange juice concentrate
2 tablespoons
all-purpose flour
1 teaspoon
ground cinnamon
TOPPING
1 cup
old-fashioned oats
1/2 cup
packed brown sugar
2 tablespoons
all-purpose flour
1/2 teaspoon
ground cinnamon
1/3 cup
cold butter, cubed
In a large bowl, combine the first six ingredients. Transfer to a 9-in. square baking dish coated with cooking spray. For topping, combine the oats, brown sugar, flour and cinnamon. Cut in butter until mixture is crumbly; sprinkle over fruit.
Bake at 350° for 30-35 minutes or until topping is golden brown and fruit is tender. Serve warm.
What's cooking in your kitchen?