Happy Tuesday! It's that time again. :-)
Did everyone get to enjoy the long weekend?! I can't believe that the summer is over...or at least the unofficial end of summer. Bring on the fall!!!
As part of being my mom's
unpaid gopher
caretaker since surgery, I've been trying to make sure I cook some meals that both my parents will like. It's quite the challenge, as mom is vegetarian and dad doesn't think a meal is complete without meat.
This little nugget was a hit with both of them.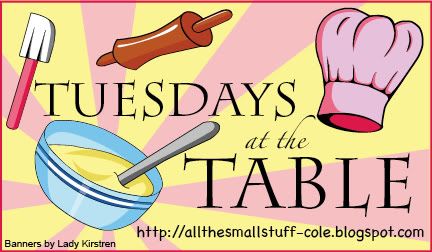 Mexican Eggrolls
1 can Corn (drained and rinsed to get rid of the excess sodium)
1 can black beans (drained and rinsed to get rid of the excess sodium)
3-4 scallions (finely chopped)
2 cloves of garlic (minced)
1 1/2 cups shredded cheese
1 package Eggroll wrappers
1/2 envelope Taco seasoning
Salt
Pepper
In a large bowl, combine all ingredients but the eggroll wrappers. Place a large spoonful or so of the vegetable mixture in the middle of each eggroll wrapper, wetting the edge of the wrapper to seal.
Place the eggrolls on a cookie sheet that has been coated in non-stick spray. To ensure crispiness, spray the tops of each eggroll with non-stick spray as well.
Bake at 425 for 12-15 minutes. Serve with salsa and sour cream.
What's cooking in your kitchen?