That's right,
Blonde Undercover Blonde
and
The Vintage Apple
are hosting another round of Eff, Marry, Kill!!
Can I even tell you how excited I was when they announced that today would be FMK day?! For those of you new to the game - go
here
to see how this linky started.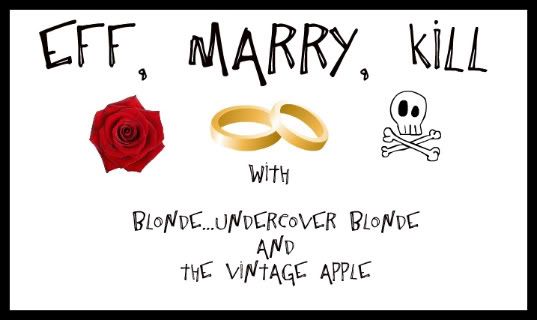 I went Hawaii Five-O style this time around. What's not to love? Action, adventure...and shirtless men.
Eff... Danny "Danno" Williams (Scott Caan). He's a real sweetie, a total goofball and usually the voice of reason for the team. But the man is still in love with his ex-wife. You can't mess with that.
Marry...Steve McGarrett (Alex O'Laughlin). Hot headed, fiercely protective of those he loves, and just plain H-O-T. They don't show his softer side too often, but it's there just waiting for the right girl.
Kill...Dr. Max Bergman. Really, the character hasn't done anything wrong per se. He's just anti-social and a little odd. I don't necessarily want to make him go far, far away - but they need to make him more likable.
What do you think? Am I crazy?