Howdy! Did everyone get a three day weekend? From the looks of stores...it seems that way! I had a few shopping adventures over the weekend.
On Sunday I went to a local furniture store and IKEA with my brother, JC and his girlfriend. I scored an AWESOME deal in the furniture store's clearance center!!!! A $700 chair for $217! Once we loaded up the chair (they won't deliver anything from the clearance center), we moved along to IKEA. Where JC's girlfriend fell in love with an entertainment center. Also a great deal - $229 for $99! And...that's where skills in spacial relations came into play. Of course, the entertainment center is the huge 6 foot x 5 foot model that comes in three boxes. With about an hour of jostling, everything fit into my SUV. Yet ANOTHER reason I'm so happy I drive a Tahoe!
Monday I spent some time with my fabulous (and newly engaged - go visit
her blog
!) cousin. At Target I scored some cute curtains for my sun room on sale for $5.58! Then we communed with
nature
the yarn store.
OK, I'm babbling. I'll get along to the recipe now. Oh, but first...did you know I'm celebrating 500 followers with a giveaway? Enter
here
. :-)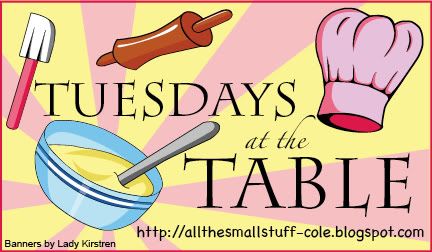 Parmesan Honey Pork Roast
1 (2-3 pound) boneless pork roast
2/3 cup grated Parmesan cheese
1/2 cup honey
3 Tbsp soy sauce
2 Tbsp dried basil
2 Tbsp minced garlic
2 Tbsp olive oil
1/2 tsp salt
2 Tbsp cornstarch
1/4 cup cold water
Spray slow cooker with non-stick cooking spray. Place roast in slow cooker. In a small bowl, combine the cheese, honey, soy sauce, basil, garlic, oil and salt; pour over pork. Cover and cook on low for 6-7 hours or until a meat thermometer reads 160°.
Remove meat to a serving platter; keep warm. Skim fat from cooking juices; transfer to a small saucepan. Bring liquid to a boil. Combine cornstarch and water until smooth. Gradually stir into pan. Bring to a boil; cook and stir for 2 minutes or until thickened.
What's cooking in your kitchen?