Erin at Mo
ore To Love
linked up with Follower Fest today...and I thought to myself "Hey, I'd really like to meet new people!", so I'm going to link up too!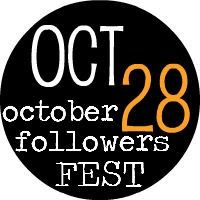 I guess I should tell you a little about myself, huh? Well, my name is Cole. Short for Nicole...but, I prefer Cole.
I grew up in two towns south of Boston. I lived the first 8 years of my life in the birthplace of Tollhouse cookies. Then my parents bought my grandparent's house. Anyway....I bought a house last year in the first town. You shall hear of it referred to as "
the money pit
" from time to time. It's a freakin' disaster, but it's
MINE
!!!
After seven and a half years at a large healthcare company, I left in June. I guess you could say that I'm at a career cross-roads. And I'm totally OK with that. Most of the time.... :-)
While you're here, you'll get to see my weekly blog hop (
Tuesdays At The Table
), my fur-kids (miniature dachshunds -
Meadow & Beckett
), whole lots of crafts and other randomness...and a giveaways from time to time.
Meadow
Beckett
Leave me a comment so I can come visit you too!!