Happy (belated) Columbus Day, gang! Did everyone get to have a long weekend?
I mentioned a few months ago that my anniversary of hosting TATT was coming up...and then I completely forgot about it! It's been just over two years that I've been hosting now. Boy, time flies!!! Every week as I post, I think of sweet
Andrea
- the original host of TATT and one of my dear friends. :-) In honor of my bloggy anniversary, I'm re-posting the recipe from my first week as TATT host.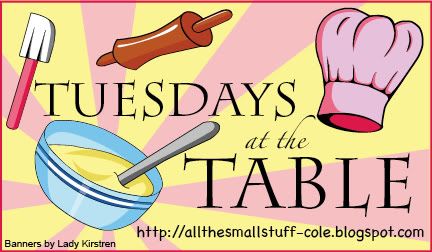 Chocolate Hazelnut Swirl Bread
1/2 cup butter, softened
1 cup sugar
2 eggs
1 teaspoon almond extract
1 teaspoon vanilla extract
2 cups flour
1 teaspoon baking powder
1 teaspoon baking soda
1/4 teaspoon salt
1 cup sour cream
Topping
1/3 cup finely chopped hazelnuts
1/3 cup mini chocolate chips
3 tablespoons sugar
1/2 teaspoon ground cinnamon
In a large bowl, cream the sugar and butter until light and fluffy. Add eggs one at a time, beating well after each addition. Beat in extracts. Slowly add in the flour, baking powder, baking soda and salt as well as the sour cream.
Pour half of the batter into a greased 9x5 loaf pan. Combine the topping ingredients; sprinkle two thirds over the batter. Pour in the remaining batter, then top with remaining topping. Press topping down lightly.
Bake at 350 for 60-70 minutes or until a toothpick comes out clean. Cool for about 10 minutes, then turn out onto wire cooling rack.
What's cooking in your kitchen?