Hi Gang. I
love
seeing all of your recipes each week! The group continues to grow - which makes me
soooo
happy. :-) In fact, I think we now have a few men in our ranks.
Hi guys!!
I would like to encourage everyone to stop by and visit other contributors! I'll be honest in saying that I don't get to every single recipe most weeks...but I'm trying to make that a priority each week.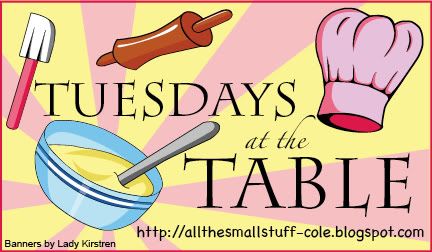 This week I'm sharing a recipe emailed along to me from my mom. I'm not sure where she got it. Otherwise, I'd definitely be linking the website!
Twixy Shortbread Bars
1 1/2 cups butter, softened
1/2 cup sugar
1 1/2 teaspoons vanilla
3 cups all-purpose flour
1 13.4 ounce can dulce de leche
3/4 cup whipping cream
6 tablespoons butter
3 tablespoons light-colored corn syrup
12 ounces semisweet chocolate, chopped (or use chocolate chips)
3/4 teaspoon vanilla
1. In a large bowl, beat 1-1/2 cups butter with an electric mixer on medium to high speed for 30 seconds. Add sugar and 1-1/2 teaspoons vanilla; beat until combined, scraping sides of bowl occasionally. Beat in as much of the flour as you can with the mixer; stir in any remaining flour. Cover and chill for 30 to 60 minutes or until dough is easy to handle.
2. Preheat oven to 350 degrees F. Line a 13x9x2-inch baking pan with foil, extending foil over edges of pan. Press dough evenly into bottom of prepared baking pan. Bake for 20 to 25 minutes or until top is lightly browned. Cool in pan on a wire rack.
3. Spread dulce de leche in an even layer atop cooled crust. In a medium saucepan, heat whipping cream, 6 tablespoons butter, and the corn syrup to boiling over medium heat, stirring to dissolve syrup. Remove from heat. Add chocolate and vanilla to saucepan. Do not stir. Let stand 5 minutes. Stir until smooth. Let stand 10 minutes at room temperature to cool slightly. Slowly pour chocolate mixture over dulce de leche layer, spreading evenly. Cover and chill 1 to 2 hours or until chocolate layer is set. Cut into bars.
What's cooking in your kitchen?