I hope that everyone had a wonderful weekend full of cookouts, relaxation and fun! I'm also hoping that you all got to thank a soldier for their service. Many of the important people that I wanted to thank are in different states, so Facebook posts had to suffice. :-)
Sorry for no Monday post too... I've been battling a migraine all weekend which means I didn't get to have much fun or be on the computer too much. On the bright side, I did get some good puppy cuddles in!
Also because of the headache, I'm going to cheat a bit and revisit a popular recipe from the summer of 2010. It's a crowd-pleaser. I mean, as long as you don't plan to kiss anybody!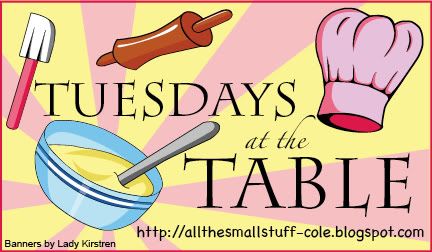 Dragon's Breath Dip
2 heads garlic
1 tablespoon olive oil
8 oz. Brie cheese
1 (3-oz.) small pkg. cream cheese, softened
1/2 teaspoon salt
Dash or two of fresh cracked pepper
Preheat oven to 350 degrees. Cut top 1/2" off the top of the garlic heads and remove some of the loose papery skin, leaving the heads intact. Place each on a piece of aluminum foil, drizzle each with the olive oil, and wrap tightly. Bake at 350 degrees 50-60 minutes, until the garlic is very soft and begins to brown. Cool until easy to handle and squeeze each head to remove the soft roasted cloves.
In a food processor, process Brie cheese and cream cheese with the salt, pepper, and garlic cloves. Refrigerate several hours to blend flavors. Serve with melba toast, crackers, crustini or the like.
What's cooking in your kitchen?