Did everyone have a good Halloween? I got fewer trick-or-treaters than expected (about 30 or so), but the kids were soooo cute!!!
The highlight of the day was dressing Beckett and Meadow up for Halloween. Unfortunately, we *cough, ME, cough* couldn't find their planned costumes. So they had to take turns sharing their back up costume - as a
LEPRECHAN
!!! Good thing their grammy bought it for them when she was in Ireland a few years ago. :-)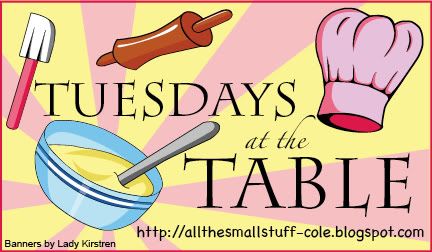 This week I'm sharing my pumpkin chocolate chip muffins. So tasty!
Pumpkin Chocolate Chip Muffins
4 eggs
2 cups sugar
1 (16 ounce) cans pumpkin
1 teaspoon vanilla extract
1 1/4 cups vegetable oil
3 cups flour
2 teaspoons baking soda
2 teaspoons baking powder
2 teaspoons cinnamon
1 teaspoon salt
12 ounces semi-sweet chocolate chips
In large mixing bowl beat eggs, sugar, pumpkin, vanilla and oil until smooth. Mix dry ingredients together and mix into pumpkin mixture. Fold in chocolate chips.
Fill greased or paper-lined muffin cups 3/4 full. Bake at 400 degrees for 16-20 minutes.
What's cooking in your kitchen?