I fuzzy pink heart
Blonde Undercover Blonde
&
The Vintage Apple's
game of Eff, Marry, Kill. If you don't understand the rules, click
here
for the version that started it all. :-)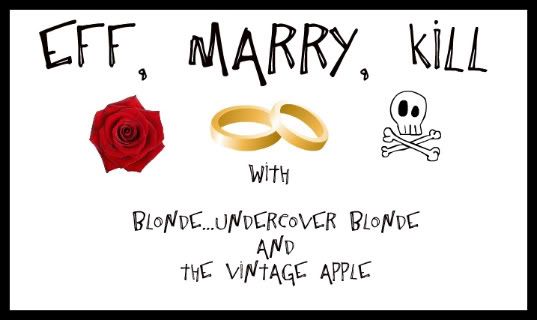 I'm guessing that with the latest Twilight movie coming out any second now, that a good segment of lovely ladies will use them as this week's focus. Hopefully, I can bring just a smidge of variety your way! :-)
Now, before I start - I need to say that I love! No, adore! No, am obsessive about Covert Affairs! Such an awesome show. Who wouldn't? You've got your action, your adventure, a hint of CIA fun, some cute guys, a little family time & I'm already pulling for Annie & Auggie (Piper Perabo & Christopher Gorham) to end up together.
Now, without further ado:
Eff... The character Jai Wilcox (Senhil Ramamurthy) is charismatic, sexy and self-assured. Plus he's the son of the former head of CIA Clandestine Affairs. It makes him perfect for a fling, but not for a long term relationship.
Marry... Auggie Anderson (Christopher Gorham). The dude's got it all (tech expertise, a sense of humor, hand to hand combat expertise from Army Special Forces, and he always knows when he's needed)- except his sight. And even that he lost in the Army defending our freedom.
Kill... Ben Mercer (Eion Bailey). Sure, he's a CIA guy. But he's forever dragging Annie into bad situations and then disappearing into thin air. Not the guy you want to have around!
What do you think? Agree? Disagree? Now, join in and link up!!