Happy Tuesday! Thanksgiving is coming! For the next few weeks, I'm going to share a few recipes that have been holiday hits in my house. :-)
Have family recipes that you'd like to share?!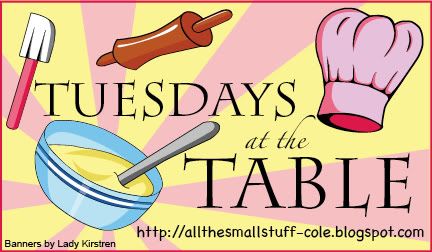 Oh...and have you checked out my
Initials Inc.
online party? It's running through Tuesday night, and they have some fabulous things! A few people can expect to get personalized gifts this year!!
Pumpkin Pecan Cake Roll
3 eggs
1 cup sugar
3/4 cup all-purpose flour
3/4 cup canned pumpkin
1 1/2 teaspoons ground cinnamon
1 teaspoon baking powder
1 teaspoon ground ginger
1/2 teaspoon salt
1/2 teaspoon ground nutmeg
1 teaspoon lemon juice
1 cup finely chopped pecans
confectioners' sugar
FILLING:
2 (3 ounce) packages cream cheese, softened
1/4 cup butter, softened
1 cup confectioners' sugar
1/2 teaspoon vanilla extract
Line a greased 15-in. x 10-in. x 1-in. baking pan with waxed paper grease the paper; set aside. In a mixing bowl, beat eggs for 5 minutes. Add the sugar, flour, pumpkin, cinnamon, baking powder, ginger, salt and nutmeg; mix well. Add lemon juice. Spread batter evenly in prepared pan; sprinkle with pecans.
Bake at 375 degrees for 12-15 minutes or until cake springs back when lightly touched. Cool for 5 minutes. Turn cake onto a kitchen towel dusted with confectioners' sugar. Gently peel off waxed paper. Roll up cake in towel, jelly-roll style, starting with a short side. Cool completely on a wire rack.
In a large mixing bowl, combine the filing ingredients; beat until smooth. Unroll cake; spread filling over cake to within 1/2 in. of edges. Roll up again; place seam side down on a serving platter. Sprinkle powdered sugar over the top. Cover and refrigerate for at least 1 hour before serving.
What's cooking in your kitchen?